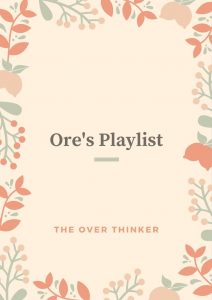 For the most part of this month, I have listened to the Starlight album by Bethel Music on repeat. The album is really beautiful, it reminds me of the closeness of God, the fact that God is involved in every aspect of our day to day lives. It is also a reminder to show love and look for the beauty in the world regardless of all the hate and bitterness. So there are two songs from the album on this month's playlist.
The next song on this month's playlist is a song of submission to the process and letting God change us from the inside and not getting discouraged when we seem to be fail. The next is a song that tells of God's beauty, and for the duration of the song you just enjoy singing along. The last is a song that will make you question why we love God, our reason for worship and service.
King of My Heart by Steffany Gretzinger and Jeremy Riddle (Bethel Music)
For The One by Jenn Johnson (Bethel Music)
Working on Me by CalledOut Music
Most High by Nosa and Nathaniel Bassy
Make Jesus Famous by Folabi Nuel
I really hope you connect to these songs and do let me know in the comments below what you are currently listening to and how it is teaching you to be better.