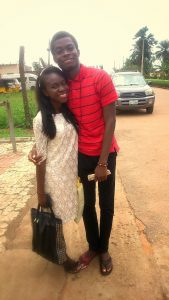 Random Photo From Graduation
Dear Muyiwa,
I sat across from you at a fast food restaurant, I had the first bite of my fried rice and declared it horrible and a waste of my money, you said your donuts wasn't any better. I struggled through my rice while you managed to eat half of your first donut which you quickly washed down with coke. I asked when you started drinking coke, you said you weren't sure when, but you are trying to stop taking it.
How the tables have turned, I remember when I was a 'coke addict', I used to smuggle it into campus (hope you remember our campus had a strict policy against caffeine) in old yoghurt drink containers. Every now and again you will bring me a bottle and lecture me on how it was bad for my health. I stopped taking coke about a year ago and now I am the one giving you lectures on the 'evils of coke'. This makes me think of how different we are from when we first met a few years ago, different yes, but the same people in so many ways.
On the day we met we had an argument about the dress code of our university, I was of the opinion that the formal dress code prepared us for life after university and you believed that it stifled creativity, that people were not given the opportunity to express themselves through their clothes. It is ironic that you pay attention to the details on your outfit and you read GQ Magazine
to keep up to date with male fashion trends while I long for a job where I can express myself through my clothes and not be confined to a set of rules. Maybe we rubbed off on each other. In swapping opinions we questioned our stand on life ideas and we became true to ourselves in the process.
You have to remember the first poem we wrote together, it was about stars, the moon and the activities that happen in the comfort of the night. That was a first for me, I had never written with anyone before let alone taken my writing seriously. I really enjoyed the process of writing with you that we had a short-lived blog where we shared poems we wrote together.
That day, while we nursed our horrible meals, I had my first honest conversation in months. That was easy because there is no judgement, no reservations, I can be unapologetic about all the crazy things that go on in my head. It isn't one-way traffic where I dump all my crazy and you just listen, you share too. It is honest exchange of burdens, this is one of the many reasons our friendship is important to me.
We don't get to see or talk often, because I am horrible at texting and you live two hours' drive away, so I look forward to the rear occasion when our paths cross and we can talk and share a horrible meal.
Oreoluwa
P.S I am looking forward to us writing again.