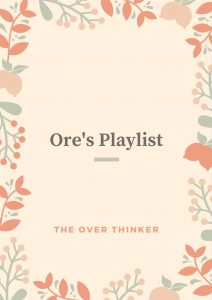 August was a month of important decisions and for the first time I felt the full effect of Adulthood. What I rest in is the fact that I am not going through the process alone, God is with me always. Psalms 46 vs. 10 "Be Still and Know That I am God" I have seen a good number of posters of this bible text but never committed it to heart until I read the whole chapter, it gave me new meaning on the presence of God in my life and God's love that I believe we don't talk about enough. The songs on this playlist for the month have helped me in my journey this month
So let's get into the playlist;
Shekinah
by Forerunner Music, Jaye Thomas and Cory Asbury;
The first time I heard this song was at the first Simple Worship in January, it is a song that invites the presence of God. This has become a Simple Worship stable, after the last Worship session I decided it was time to have the song on my phone and I have listened to it on replay since. It is one of those songs that comes up and you can't help but desire more of God.
Sovereign
over Us by Michael W. Smith
Bola my Co-host on About the Song introduced me to this song, it was on her playlist for 2016 and she will close her eyes when the song comes on and belt out the wordings with all her heart and lose herself in the song.
At the start of the month, the chorus of the songs wouldn't stop playing in my head. So I decided to listen and meditate on the song, it became my anthem for the month. Many times, we forget the Sovereign power of God in our toil and start to wonder if God is even with us. There is a line that hits me all the time which is "even what the enemy means for evil you turn for our good and for your glory". It teaches me to have peace all the time, in the raging storms and in the calm. The lyrics of the song sends a powerful message so please take a few minutes to read below.
There is strength within the sorrow
There is beauty in our tears
And you meet us in our mourning
With a love that casts out fear
You are working in our waiting
When beyond our understanding
You're teaching us to trust
Your plans are still to prosper
You have not forgotten us
You're with us in the fire and the flood
You are sovereign over us
You are wisdom unimagined
Who could understand your ways
Reigning high above the Heavens
Reaching down in endless grace
You're the lifter of the lowly
You surround and you uphold me
And your promises are my delight
Even what the enemy means for evil
You turn it for our good and for your glory
Even in the valley, You are faithful
You're working for our good
You're working for our good and for Your glory
The one That Really Matters
by Michael W. Smith and Kari Jobe
I visited No. 16 Olukole and Mr Johnson said I needed to listen to this song and I did. This isn't a song you get after one listen, it's one you go back to every time you forget what matters, every listen brings new light on how God is truly the one that really matters. For this month, the song made me ask myself what really matters in my decision-making process and it was a call for prayer for me to let God really matter in my life.
You Waited
By Travis Greene
Sometimes I am an illegal distributor of songs and books, my friends Tofu asked if I could help her get this song that she almost ran out of data listening to the song on repeat on YouTube. So, I listened to the song, it shows God is a lover that doesn't give up, a lover that calls out, one that is patient, one that doesn't let go after the chase. We hardly see God in this light. I remember a text in the book of Acts that talks about seeking God because he isn't very far [Acts 17:27], so God is always lurking in the shadows and waiting to show you love and give light.