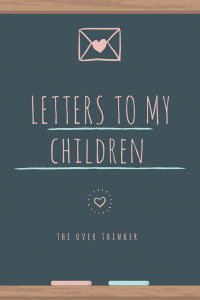 Dear Children,
I have a long list of things I want you to learn when you get here, like learn to speak Yoruba, French and Spanish, learn to play a musical instrument or two. Love literature, music and art the way I do.
I learnt how to play the piano for three years in primary school, I really liked my teacher but sharing practice time with my siblings was annoying.
My piano teacher in secondary school on the other hand was not that great, he told me during my first lesson that my hands are too small to play the piano because they would not spread out enough, he proceeded to sleep about 10 minutes into the lesson.
I gave up learning to play the piano after that. I regret taking the man's words to heart. Recently I have been considering starting my lessons again.
I don't want you to ever think there is nothing you can't do, I want you to understand that you can break new grounds and do the impossible. I want you to be better than me! But I am managing my expectations, because I understand that what I dream for you may not be your dreams and I will have to support you regardless.
I will have to help you find you path and not guide you to the one I have selected for you and this isn't an easy task because I will watch you be completely dependent on me for everything, watch you learn to walk and talk, be inquisitive about everything and watch you grow and not need me so much with every passing year.
Expect we will have conversations when I think you are making a mistake or throwing away your life by making impulsive decisions, neither of us will like this but we will both be better for it.
All these will be harder because every time you leave home I will want to curl up in one of your suitcases and come along to keep you safe, I know this is slightly irrational because God will always keep you safe, but this doesn't stop me from thinking it's my 24hr/ 7days a week job to protect you.
I am teaching myself to manage my careful thought out plans for your live, I am learning that what I dream for you will probably not what you will dream for yourself.
I am telling myself every day that this is okay.
With All My Love; Mama.